Train with a World Champion!
A Five Day Camp with 1971 Champion Stellan Bengtsson
Learn from the same coach that has helped Waldner and Persson.

Assisted by 10-time US National Champion,
Angelita Rosal Bengtsson.

This camp has upper (1600-2200) and lower (1100-1600) divisions.
Both groups train simultanously, but seperately.

Improve your technique.

xxxxLearn new strategies, get advice on your needs.

xxxxxxxxPracitce with partners just as dedicated as you.

Play better and have more fun!

Daily training schedule is 3 hours each morning and 3 hours each afternoon, with a 2 1/2 hour lunch break. The playing facility is available at all other hours at no extra charge.

Affordable hotels area available nearby, or sleep on the club floor (bring your own sleeping bag) at $10 per night.

Featuring Nittaku 3-star balls provided by Paddle Palace.

Stellan is sponsored by JUIC and Paddle Palace.
Where:

Willamette Table Tennis Club
 
1960 Oak St. SE in Salem, Oregon

When:

Thursday, August 30 through Monday, September 3, 2012

Fee:

$500

Application:

Limited to first 14 applicants, prepayment required.

Open:

Camp will operate with two divisions:
Upper Division for those rated 1600-2200.
Lower Division for those rated 1100-1600.

Information:

Contact Ben at 503-851-2941 (cell) or at
ben@bcwebhost.net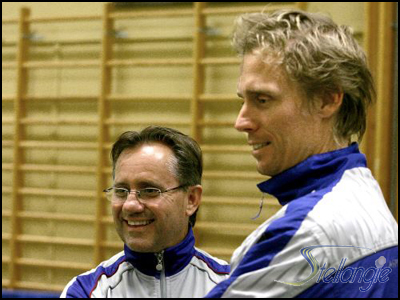 Stellan with 1991 World Champion Jorgen Persson.
Special discount for those over 1900


First time participants only: rated over 1900, take off $50
from your fee. Total price is only $450.