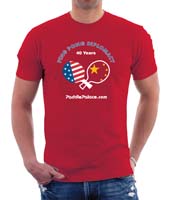 This Ping Pong Diplomacy T-Shirt from Paddle Palace celebrates the 40th Anniversary of Ping Pong Diplomacy. A red shirt is screenprinted on the front with a design of crossed Chinese and USA ping pong paddles, with the words, "Ping Pong Diplomacy, 40 Years".
The shirt is made of quality 100% pre-shunk cotton from Port and Company. Available in sizes S to XXL.
In 1971, the US Table Tennis Team was attending the World Championships in Nagoya, Japan when they received a surprise invitation to travel to China. The 15-member US delegation helped to open relations with China with this visit that created a media sensation around the world. Paddle Palace owner Judy (Bochenski) Hoarfrost was the youngest (15-year-old) member of the Ping Pong Diplomacy delegation.
Watch the news for the upcoming 40th Anniversary events planned between China and USA!