Latest Equipment from Stiga!
STIGA equipment available at Paddle Palace
including the latest new arrivals: Carbonado 45 and 90 blades, Eternity blades, Mantra Rubber, Genesis Rubber, Structure Rubber.
See all from STIGA here.
Latest Equipment from Tibhar
Paddle Palace carries the latest in Tibhar equipment with high-quality cases and clothing, rubber sheets from Rasant to Evolution, and blades used by some of Europe's best.    Click Here for More Info on TIBHAR at Paddle Palace!
Improve your game with Coach Samson Dubina!
Check out all the tips and tricks with Samson Dubina's "DEVASTATE" Series
Devastate the Smart/Dumb Guy | Devastate the Top Dog | Devastate the One-Wing Looper | Devastate John Doe | Devastate the Offensive Blocker | Devastate the Defensive Blocker More from Samson.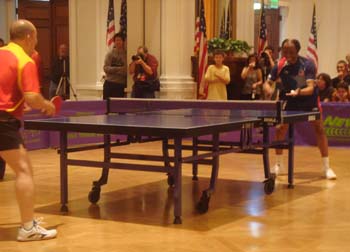 An elaborately staged Ping Pong Diplomacy "Rematch," was held June 10-12, 2008 at the Nixon Library in Yorba Linda, CA. It commemorated the Ping Pong Diplomacy of 1971, when the Chinese surprised the World by inviting a U.S. table tennis team to go to China. It was an outstanding diplomatic move alright, for these guests of China comprised the first group of Americans to enter that country in over 20 years. There followed in 1972 the historic visit of President Nixon to China ("Better off in conversation than conflict"), and the reciprocal visit of the Chinese to the U.S.