Latest Equipment from Stiga!
STIGA equipment available at Paddle Palace
including the latest new arrivals: Carbonado 45 and 90 blades, Eternity blades, Mantra Rubber, Genesis Rubber, Structure Rubber.
See all from STIGA here.
Latest Equipment from Tibhar
Paddle Palace carries the latest in Tibhar equipment with high-quality cases and clothing, rubber sheets from Rasant to Evolution, and blades used by some of Europe's best.    Click Here for More Info on TIBHAR at Paddle Palace!
Improve your game with Coach Samson Dubina!
Check out all the tips and tricks with Samson Dubina's "DEVASTATE" Series
Devastate the Smart/Dumb Guy | Devastate the Top Dog | Devastate the One-Wing Looper | Devastate John Doe | Devastate the Offensive Blocker | Devastate the Defensive Blocker More from Samson.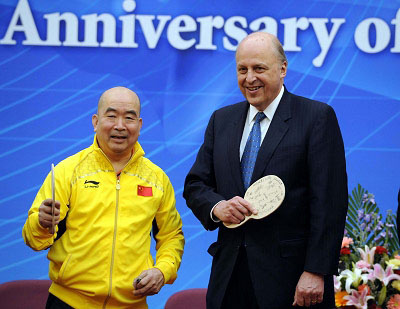 In order to commemorate the 30th anniversary of the Establishment of Diplomatic Relations between China and U.S., the Chinese Table Tennis Association would like to host a friendly match on Jan. 7, 2009. We wish the USATT help to see if two veteran players, George Braithwaite and Judy Hoarfrost, could come to the event. In addition, we wish to invite two young players (one male, one female) under the age of 18 to come to the event. The relevant expenses incurred from this trip will be born by the General Sport Administration and the Ministry of Foreign Affairs of People's Republic of China. Did I wish to accept this invitation? You bet!